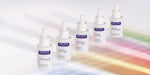 Supradoses
Orlane has created the first line of tailor-made supplements to customize skincare and cater for the needs of a very skin type.
These concentrates of pure active ingredients, measured with pharmaceutical precision for maximum efficiency, optimize Orlane skincare to suit every moment, every wish and every need.
New cosmetics technology has opened the door to made-to-measure skincare, adopted to each skin type by including additional active ingredient in the usual creams to enhance their performance.
They deliver the maximum quality of pure active ingredient in every drop and are added to the skincare cream just before application.

Sign up here for our email newsletter to discover exclusive offers!

PLUS get 10% off your first order!
GET 10% OFF