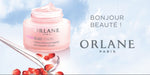 Oligo Vitamin
A real 'beauty breakfast' for the skin, giving you the daily minimum recommended dose of essential elements it needs.
A healthy complexion and skin glowing with vitality and radiance is exactly what the new OLIGO program promises.
With their hypoallergenic formula, these targeted treatments are intended for all women, regardless of their age, and are designed to suit all skin types, even the most sensitive.

Sign up here for our email newsletter to discover exclusive offers!

PLUS get 10% off your first order!
GET 10% OFF