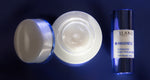 Anagenese
Time begins to take its toll on the skin even before first wrinkles appear.
To combat this invisible aging, Orlane drew inspiration from the work behind the Nobel Prize in Medicine on cell growth factors.
With two specific pro-growth factors, Anagenèse makes cells stronger and more resilient.
These first time-fighting care products prolong the skin's youthfulness so that time can no longer leave its mark.

Sign up here for our email newsletter to discover exclusive offers!

PLUS get 10% off your first order!
GET 10% OFF