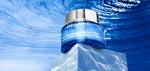 Extreme Line Reducing
Reactivate youthfulness inside your cells!

The skin is naturally capable of repairing itself.
Keeping its original profile as a model, it can renew itself to erase wrinkles. However, this ability diminishes over time.
A new generation of anti-wrinkle care, the Extreme Line-Reducing Day program stimulates the skin's memory.
By restoring its repair functions, it acts not only on wrinkles, but also on all of the factors responsible for their slackening and depth, as well as loss of comfort.
Wrinkles are reduced and the skin looks visibly younger.

Sign up here for our email newsletter to discover exclusive offers!

PLUS get 10% off your first order!
GET 10% OFF