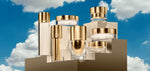 Creme Royale
Crème Royale skincare products combine precious natural substances and cutting-edge technologies in sumptuous textures.
Uncovering the secret of Royal Jelly, Orlane Research recreates its infinite antiaging treasures by using it in a fresh form.
Selected for its antioxidant and protective potential, 24-karat Gold completes the formula.
A luxurious response to anti-aging objective:
"to restore life to your skin".
Regenerated and densified, your skin glows with youthfulness.
Your complexion is radiant and dark spots are diminished.

Sign up here for our email newsletter to discover exclusive offers!

PLUS get 10% off your first order!
GET 10% OFF