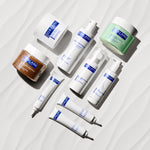 Body
Youthful skin is the secret to a redefined body and firm curves.
Orlane body care is based on complementary antiaging, slimming and firming strategies adapted to the most sensitive areas of the body.
Specific care products for the bust, abdomen, arms or figure that combine the benefits of the latest scientific discoveries to reshape curves, purify, firm and revitalize the skin. Intelligent body care that restores dynamic youthfulness to your figure.